Complete NJ Zone 6 Organic Garden Planting Guide – Available for Easy Download Now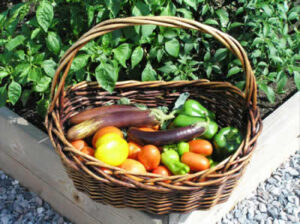 Are you a new or new-ish gardener who becomes slightly confused by the planting instructions found on the back of seed packets?
Would you love a simply organized planting calendar and set of guidelines to help you understand which veggies and herbs to plant at which times during the growing season?
For example, suppose you wondered what to plant in NJ zone 6 during the month of March. If you had the guide, you could flip to the March planting page for our zone.
Or, if you had specific veggies in mind but didn't know when or how often to plant. You could look up, say, beets, and find out that beets can take 2 months to mature from seed and can grow in successive plantings 3 weeks apart until temperatures reach 80 degrees.
Does gardening info confuse you? For example, if they say "30 days to maturity" does that mean from the time you plant seeds, or from the time the young plants are transplanted?
These, and many more newbie gardener questions will be cleared up right here!
Presenting… The Complete Beginner's E-Guide to Organic Gardening in NJ Zone 6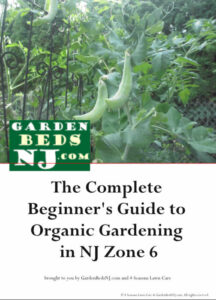 GardenBedsNJ.com has created an instant-download e-guide that will benefit beginner gardeners who live in NJ zone 6 and want to expand their knowledge.
Inside this 95-page e-guide, you'll find:
PART 1: Intro to Gardening
Raised bed gardening: what it is, and why it's better
Seeding vs. transplanting vs. direct-sowing
Understanding those confusing seed packet instructions
Best spot to locate your garden
Must-have gardening tools
Garden Bed Prep essentials, including info on compost and other organic fertilizers
Understanding USDA hardiness zones

PART 2: What to plant when!
Your very own Garden Planting Time Table for NJ Zone 6. Covers March thru November. A must-have for new gardeners!
PART 3: NJ Zone 6 Encyclopedia of Veggies, Herbs and Companion Flowers
62 pages of plant-specific details, including a brief description, planting instructions, pests and disease, harvesting and storage, and other pertinent info. From Asparagus to Watermelon and everything in between.

The best part is that you get specific, zone 6 info such as when to plant, when to harvest, etc. – not available anywhere else.
Order today, in time for the spring gardening season!
HOW TO ORDER:
To order your emailed PDF copy of The Complete Beginner's Guide to Organic Gardening in NJ Zone 6, simply click this link.
You will be whisked off to a PayPal checkout page. Once the payment is processed, check your email where you'll find a receipt confirmation.
Open the email, and there should be a direct link to the file. Click it to download the PDF file onto your computer.
Or, click this button to purchase:

Thanks, and Happy Spring Garden Planting, NJ!